WLAN outdoor camera:
surveillance camera with motion detector, night vision and intercom function – for a secure home
Does having a view of your property simply make you feel more secure? Then employ an innovative doorman: Our surveillance camera has a precise view of what is happening at the front door, in the garden or in the horse stable. The WLAN camera surveils your property, and helps protect you from break-ins and theft. Thanks to its diverse functions, the WLAN surveillance camera can also be used as an intercom system at the front door. You can keep an eye on your children as they play in the garden. Or, at night, you can catch the marten in the act, before it has gnawed through your brake cable!
The easy way to WiFi-controlled surveillance
simple installation with no gateway
The WLAN-enabled surveillance camera establishes a direct connection to the router without an additional hub (also called a bridge or gateway). Many other smart home products require this gateway. With Hama, Smart Homa works according to the motto 'Made Simple' - without any constructional measures, with little effort and without additional devices - which saves costs and effort. Within just a few minutes, you have cleverly integrated the outdoor camera into your WLAN.
Keep your property in sight via app
Your smartphone together with the Hama Smart Home app gives you a view of the outside of your property: You can monitor your garden, courtyard, garage, patio and front door, when you're at home or away. Start the live view if you hear a screech at the garden gate, or if you simply find it thrilling to watch the animals on their nightly forays through your garden. You can integrate the surveillance camera into your WiFi network and configure the app in just a few steps. A detailed step-by-step guide can be found in our operating instructions.
Large field of view with 110-degree wide angle
We want you to be able to capture as much of your property as possible. The WLAN surveillance camera is therefore equipped with a 110-degree wide-angle camera lens. This enables a very large area of surveillance. You will see the postman not only when he is standing at the front door, but also when he is entering through the garden gate – depending on the positioning of the camera. The outdoor camera can still be tilted up or down after it has been attached to the facade. Therefore, no corner or angle will escape the view of your new doorman.
Razer-sharp images in Full HD 1080p
Superb and razer-sharp: Whoever or whatever is prowling around your property, you will be able to discern everything. The Full HD quality with 1080p enables a razor-sharp and detailed picture - neither rain nor fast movement reduces the picture quality. A poor hand of cards for intruders and hooligans; a good hand for your children, who are romping around in the garden or jumping on a trampoline. Perfect for children's birthdays: You prepare the birthday cake or snacks, and still don't lose sight of the boisterous group of children.
With recording of the video images
You can store extensive video recordings on a microSD card with a capacity of up to 128 GB (use of the cloud is not required). Whether it's a matter of securing evidence in the case of vandalism, or you simply want to capture for eternity the magical encounter with a wild animal – with the WiFi camera with integrated microSD card slot, you have additional, local storage. What's particularly practical: The motion detection feature automatically starts a recording. The MPEG-4 video is filmed in Full HD with 1920 x 1080 px. You can also store your video material in the cloud (subject to a fee).

up to 128 GB

1920 x 1080 px

up to 20 days

via App
Always on duty:
motion and noise detection
The parcel carrier likes to throw parcels over the garden fence, but never at the same time of day? You want to see which hole the marten uses to get into the garage, but you don't want to sit in front of the live picture all night? The security camera has a motion detection feature. If the camera detects motion, video recording starts automatically and you immediately receive a push notification on your smartphone.
With the WLAN outdoor camera, you are doubly protected, as you also get a push notification when the camera detects noise. Was it just the dog barking, or is there more to it? The sensitivity of the sound detection can be set to one of two possible values: High 65 dB, Low 85 dB.
How does the push notification work?
The notifications are displayed as popup messages on your smartphone, without you having to open the app. This means you are informed immediately and can respond very quickly. If the messages disturb you, you can always turn off the push notification, or set it up so that the popup message appears, but without sound. To ensure that you are not constantly flooded with messages – for example, if a loud lorry stops in front of your house or a bin lorry comes by – our push notifications have a 60-second block. When the first clank is detected, you will receive a message; thereafter, only after 60 seconds. If necessary, you can turn off the function completely.
Intercom system via two-way audio
The microphone and speaker in the surveillance camera enable an intercom function. You can see and talk to the person at the front door, without having to open it. This is safer, as you never know whether it really is the postman who has rung the bell. If it is, in fact, the postman with a delivery for you, the intercom system is especially practical: Even when you're not at home, you can ask him to leave the parcel on the patio or in the garage for you. This saves you a trip to the post office.

Camera surveillance in the dark with night vision
With infrared night vision, the camera also has every movement in the dark in focus: Whether the fox and hare are saying good night in your garden, an intruder is up to no good, or your teenagers are trying to sneak out at night to a party – the camera lets you know.

Best compatibility
You can combine the outdoor camera with all Hama smart products, for example, with a lamp connected to a WLAN socket. If you would like to view the live picture on the Amazon Echo Show or the Google Nest Hub, you can do this conveniently by voice command.
Joint monitoring thanks to multi-user function
Several pairs of eyes see more than one: The multi-user function allows you to grant multiple users access to the surveillance camera, and therefore also to the Hama Smart Home app. This is a big advantage when you're on holiday or are ill, as your parents, relatives or neighbours can then keep an eye on your home, courtyard, property and horse stable, and react quickly if necessary.
You can specify up to five people as family members in the app. These five people then have access to all devices until you end their membership. It is also possible to allocate individual devices to specific people, and to revoke their allocation. With this sharing, it is important to note that only usage is shared, not the settings.

Good news:
All Hama Smart Home products can now be controlled not only with Alexa and the Google Assistant, but also with the voice assistant Siri.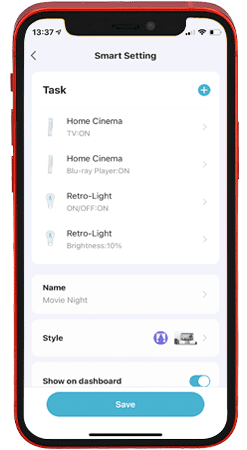 1

Create a scene

The Siri Shortcuts function enables the control of smart scenes that first have to be created. For this purpose, create a scene in the usual way that you want to activate with Siri. The existing process remains unchanged.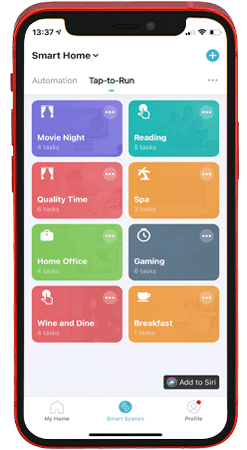 2

Open Siri Shortcuts

In the app The overview page displays all set-up scenes. You will find the new 'Siri Shortcut' button in the lower right-hand area. Tap the button.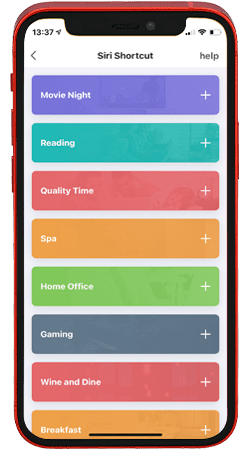 3

Select the scene you want

A page opens, on which you can add your scenes to a Siri Shortcut. To do so, press the plus sign next to the relevant scene.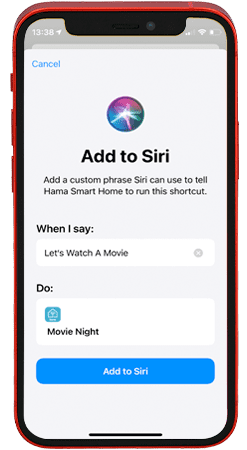 4

Create a shortcut

You can now create the shortcut. To do so, enter the wording for the command that is to be used to start this scene. If, for example, you have created a scene for a film night and would like to add it to the Siri Shortcuts, a suitable command would be 'Start the film night'. Once you have tapped 'Add to Siri', you can then simply say to Siri, 'Hey Siri, start the film night'. Siri will then run the 'Film night' scene from the Hama Smart Home app.

Additional tip: To control individual devices with Siri, simply create short scenes that are responsible only for switching on, switching off or switching over the individual device, and add them to Siri. 'Fan on', 'Light off', 'Hey Siri, see to the light' – there are no limits to your imagination!
Creating scenes and automations
Get maximum convenience out of your smart products by creating scenes and automations
Our WLAN camera offers entirely different uses and functions if you connect it with other smart home products or set particular scenes. This is very easy to do with our app. Simple everyday manual actions can be perfectly automated with smart home systems.
Scenes and automations make your everyday life so much more pleasant and convenient:
Scenarios
Make life easier
'Camera' scenario:
When the WiFi wall light outside the home comes on, the motion detection sensitivity of the outdoor camera should be set to low.
'Not at home' scenario:
When you activate the scene, every light in the home is switched off; in addition, the cameras' motion detection function is activated.
'Home' scenario:
The motion detection function, including the alarm, is activated on all outdoor cameras, so that you know if something is moving in the garden; on the indoor camera, the motion detection function and alarm are switched off.
Automations
In combination with other products
It is also possible to switch on/off the camera's motion detection function and motion alarm using time control. The big advantage here is that motion detection does not have to be started manually.