SECURE HOLD FOR YOUR PHONE IN THE CAR
MOUNT YOUR SMARTPHONE SECURELY WITH THE HAMA "MAGLOCK"
Continuing advances in digital technology are also evident in cars – for instance, if you integrate all kinds of additional functions into your car with Apple CarPlay. But where should you put your phone? If you place it in the centre console or on one of the seats, it may slip to the side or even fall on to the floor. And most importantly, your phone is not positioned where you can see it without looking away from the road.
With the Hama "MagLock" holder, your smartphone is always in view. 12th-, 13th- and 14th-generation iPhones can be docked magnetically. The holder itself is attached to the air vents in a matter of minutes in just a few simple steps. Your phone is securely attached even in the event of a braking manoeuvre. In addition, the holder is compatible with all Apple MagSafe products and with Hama MagCase products kompatibel.
PERFECTLY SECURED WHILE DRIVING
Your phone rings and you'd like to know who's calling. To find out, you need to pick up the phone. But where is it? Thanks to the "MagLock", you don't have to search for your smartphone anymore – it is always in view. This is also practical if you would like to use your phone as a navigation device.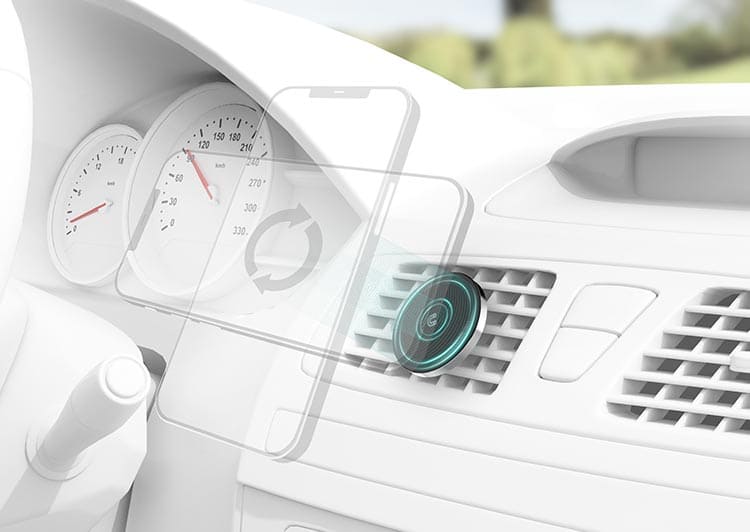 MAGNETIC HOLDER
You attach the phone holder securely to the ventilation grille with a clip. A built-in magnetic ring holds your smartphone in place. The holder's minimalist design enables precise placement. The phone can be rotated 360 degrees and thus aligned perfectly to suit you. Simply dock your phone with its back to the "MagLock"; your phone is then securely stowed and easily visible.

PERFECTLY COMPATIBLE WITH APPLE MAGSAFE AND HAMA MAGCASE
The "MagLock" holder is compatible with all original Apple MagSafe covers and with Hama MagCase products. You thus avoid messy cables, which are distracting and can even be dangerous if they prevent you from operating the vehicle correctly.