Ergonomic wireless mouse
For relaxed, pain-free work at the PC and notebook
Germans spend an average of seven to nine hours a day at the workplace or in their home office. So it's all the more important that the desk at work and at home is ergonomically arranged with the aim of maintaining and improving health. In particular, the hand that is used to operate the mouse is subject to considerable strain each day.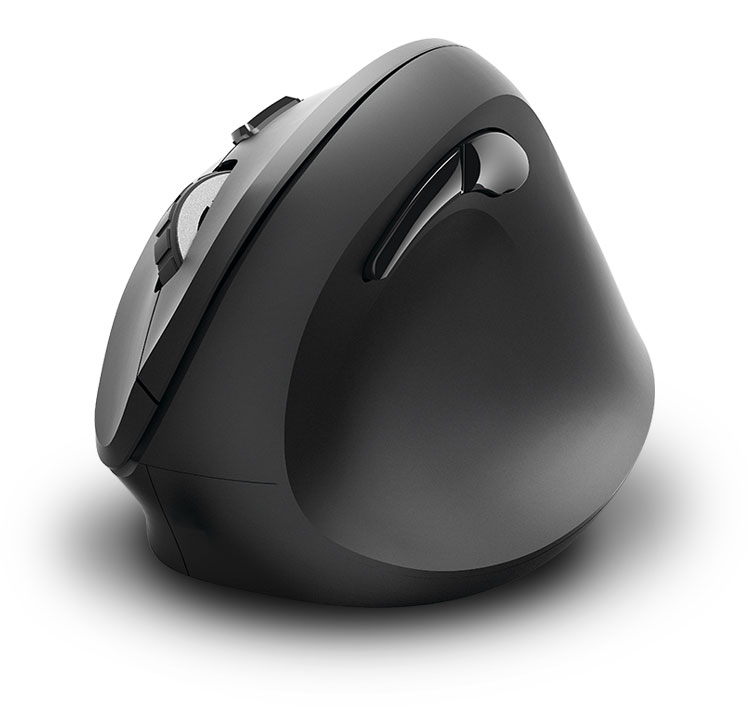 Ergonomically shaped
Our vertical, ergonomic wireless mouse supports you in assuming an ergonomically correct hand posture, and prevents overstraining and pain in the shoulders and wrist.

Natural wrist position and movement
Strain on the muscles is reduced, allowing constant blood flow

Additional strain on the wrist through sideways movements
Twisting of the wrist and forearm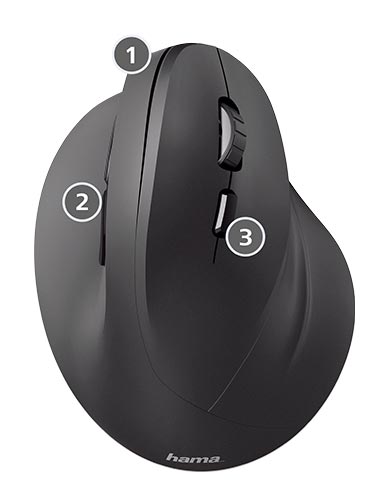 Practical buttons
Our 'EMW-500' mouse is not a simplified version of a standard mouse, but is equipped with everything needed to make office work with a mouse easier and more relaxed. Use the browser buttons to easily navigate back and forth within your Internet browser. Of course, a considerate approach to energy use is also required for mice: The 'EMW 500' has a separate on/off switch to conserve battery power and extend battery life.
Vertical design
Two sidelong buttons
Ergonomical shape
Wireless mouse with adjustable sensitivity
With our wireless mouse, there is no USB receiver in the way: It is so tiny that you can leave it plugged into the laptop. To safely transport the receiver and save space, you can place it inside the mouse. It takes about a minute for the receiver and transmitter to connect to one another.
Depending on the kind of work you do at the PC, you can set the mouse sensitivity (dpi) entirely according to your needs – up to a maximum of 1800 dpi for high sensitivity and fast mouse movements, or 1000 or 1400 dpi for slower mouse movements and lower sensitivity.
In your home office, you can lounge around on the sofa comfortably with the mouse – the eight-metre range of the 2.4-GHz mouse allows creative sitting positions.
Please note:
Due to the ergonomic design, operation of the mouse may initially seem a little unfamiliar and uncomfortable. Spend a few days getting used to the new feeling.
This mouse is compatible with the Windows 11/10/8/7 and Mac OS 10.10 (or higher) operating systems.