Robust, versatile, dust-proof and waterproof: this is "Fit Watch 6910"
The business-ready smart watch with GPS in an elegant chronograph style - with pulse and pedometer, reminder functions and much more.
You always want to have everything in view, but a digital fitness tracker doesn't suit your style? In the Hama "Fit Watch 6910", multi-functionality meets solid design with eye-catching character. Yes, you can truly have it all with this classically elegant smart watch: GPS and other running watch functions such as step counter, music control and heart rate measurement are just the beginning. With this perfect companion in your everyday life, you will always stay on track with your professional and sporting goals and know exactly where you stand in every situation.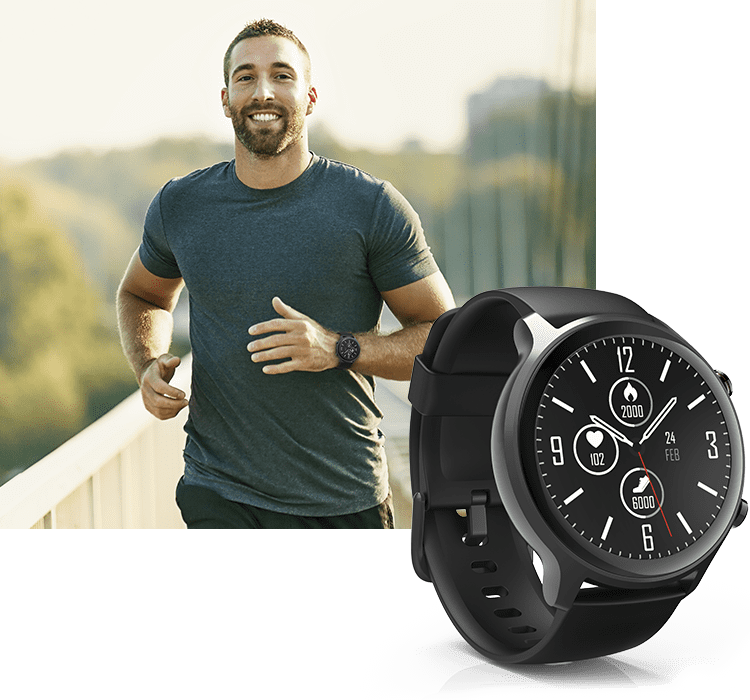 Sophisticated running watch with GPS
Precise recording of the running distance - independently of the smartphone
If you keep breaking new ground, you'll create new synapses in your brain - and you'll be well equipped for your mental and physical fitness with this smart fitness tracker plus GPS plus numerous other functions. With the "Fit Watch 6910", you can easily record the distance you have covered without having to use the tracking function on your smartphone. Thanks to the sports watch with integrated GPS, you move completely independently and can decide spontaneously on your route.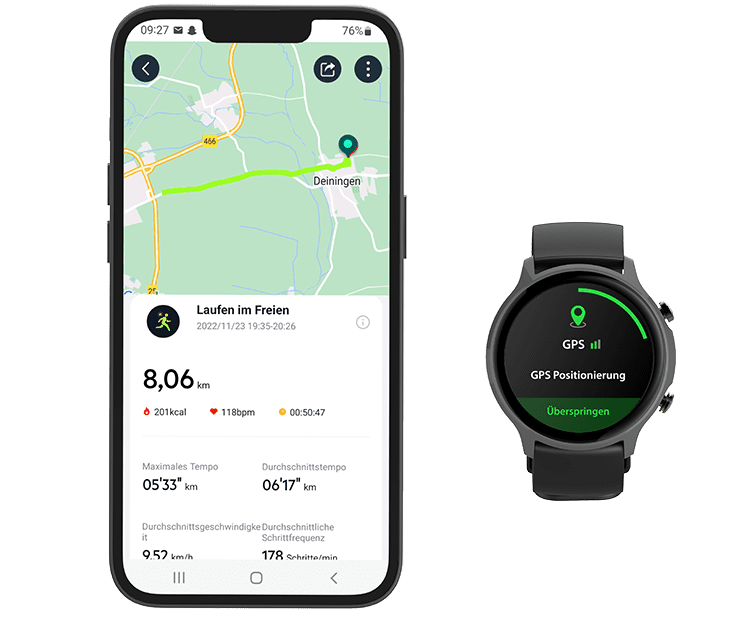 Perfect for all sports with an endurance character and longer distances and slopes, e.g.
Jogging
Hiking
Walking
Inline skating
Cycling
Skiing
Snowboarding
Riding
Rowing
Triathlon
Paragliding
In addition to GPS, the sports watch also records the physical activity itself. This gives you the perfect combination of readings at your fingertips and allows you to vary your training as needed. From the way to work to outdoor adventures: you can follow every step perfectly!
Everything in view, everything under control - and with style
Robust, designer fitness watch with full-touch display
Full colour and intuitive: the stylish fitness watch has a user-friendly 1.28" full-touch LCD display and comes with a number of functions that enrich your everyday life. The display of WhatsApp and other notifications and the practical torch function are just two small examples. The large display of the "Fit Watch 6910" smart watch guarantees the perfect overview of all important data - even during training. At the same time, you have full mastery of the music controls, whether you're on the way to work, training for a half-marathon or relaxing by the lake. No more annoying button pushing, you have all the relevant information at your fingertips.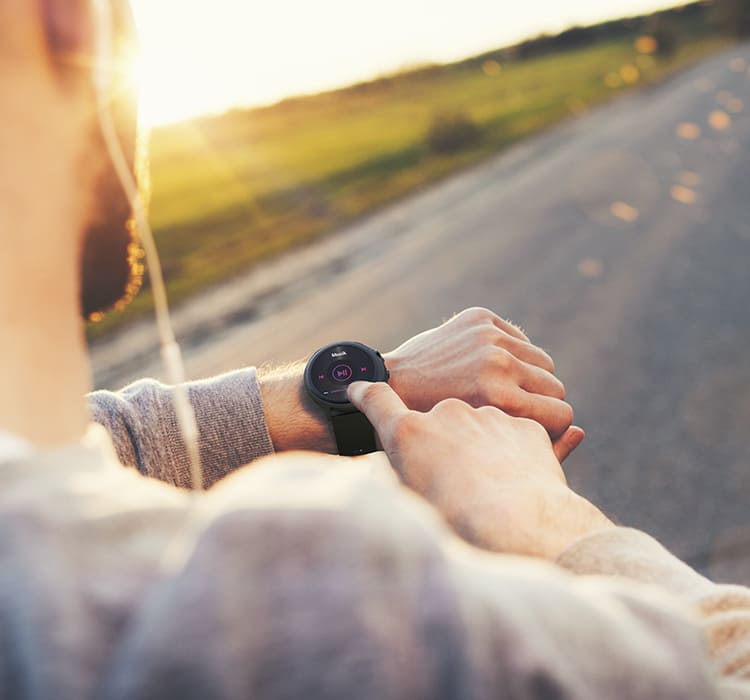 Round design, robust housing
Like an analogue wristwatch
The beautiful analogue watch with a chic watch face is to give way to a digital version? Don't worry, the Hama "Fit Watch 6910" will save you from a break in style. This is because it is not a typical sports watch as you would normally know it: The fitness smart watch is perfect for all those who like their watches stylish and smart at the same time. The smart watch offers this:
Chronograph-style dial display
Notifications for calls and messages
Durable materials that can take on any sport
Quick access to all everyday and sports functions at any time
Finally, everything in just one smart watch: so you no longer have to choose between style and functionality, you can simply have both!
Versatile fitness wrist strap
Perfect for simply every moment
In addition to the impressive look, the wearing comfort is of course not neglected. The elegant case in stylish dark grey and the special fitness wrist strap of the smart watch for men are particularly eye-catching. The robust design is made for everyday use and sport alike. The narrow watch strap is therefore:
Very light
Pleasant on the skin
Ideal for longer wear in everyday life
Ideal for extended training sessions
The perfect everyday companion that monitors your sleep at night and gently wakes you in the morning: These are the best conditions for your new active lifestyle!
Highest IP protection class: this multi-sport watch is a real all-rounder
Protection against dust, absolutely waterproof - that's the "Fit Watch 6910" smart watch
Smart gadgets can't stand the rain? On the contrary: the "Fit Watch 6910" waterproof smart watch withstands more than just splashing water effortlessly. Thanks to the IP68 protection class, you have one less thing to worry about if you do get caught in a rain shower. With this trendy smart watch, you can go for a run even in the worst of the bad weather - or hop straight into the shower with the heart rate monitor after your workout. If you want to refresh yourself briefly at the lake during a nice jog in summer, you can do that too with confidence. Even submersion cannot harm the waterproof Hama fitness tracker: in extensive tests, the sports watch is tested for 30 minutes at a depth of 5 metres. The fitness gadget on the wrist is no longer a drawback when it comes to swimming and water sports in general.
What's more: feel free to stay creative and be true to more unusual water sports. Although "only" 14 sports can be selected in the app, you can really track any activity that comes to mind under "Other", from water polo or snorkelling to surfing - or from cycling and motocross to bouldering. This is because the IP68 protection class not only means that the Hama "Fit Watch 6910" is waterproof and protected against continuous submersion, but it is also dust-proof. This makes outdoor sports and even chalk for better grip when climbing no problem.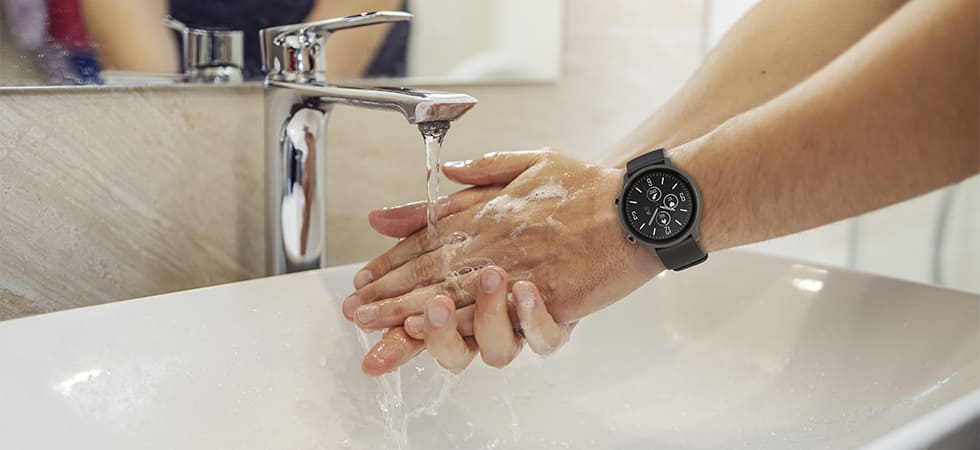 Smart sports watch with pulse and heart rate measurement
Recognising stress limits in good time - during training and under stress
From waking up slowly in the morning, through everyday stress and sports sessions, to rest and deep sleep at night: depending on the time of day, our heart rate experiences numerous highs and lows. The right heart rate tracker provides important information about your current fitness and health situation quickly and in real time. Thanks to the integrated sensor, the smart tracker can record the heart rate - 24 hours a day, 7 days a week - and display the history in the app. There is no uncomfortable chest strap to get in the way, because the measurement is taken directly on the wrist through the unobtrusive wristwatch.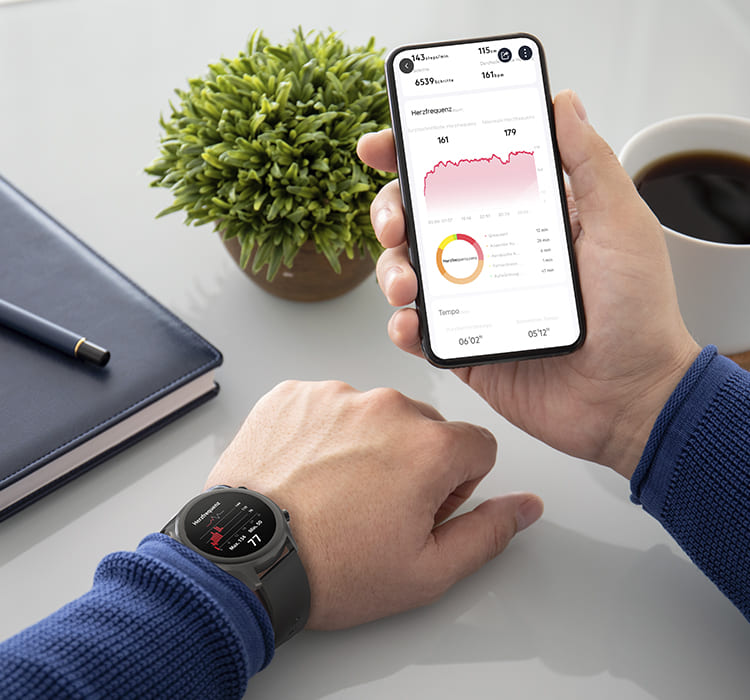 With the heart rate tracker you simply register important alarm signals of the body faster: As a result,
you can protect yourself from overloading.
you can react immediately to acute stress.
simply adjust the intensity - for the ideal training effect.
Depending on your training goal - whether to build stamina or burn fat - it is much easier to read your pulse correctly and train in the optimal heart rate zone. With the current heart rhythm in view, your daily training routine becomes all the more effective.
Here's a bonus tip, because included in the smart watch is a function that is equally interesting for men and women: if stress gets the better of you, just do a short relaxation exercise. Whether you receive bad news or the incompetent colleague is driving you up the wall: the "Fit Watch 6910" helps you to pause for a moment, come down and simply breathe away the stress.
Measure oxygen saturation, interpret analyses correctly
Why you can - and should - measure blood oxygen with your fitness watch
The oxygen content in the blood also gives important and relatively early indications of the current state of health. With an exact measurement and healthy people, the oxygen saturation standard value is 95 % to 99 %. If this value is lower - i.e. less oxygen is transported in the blood - this can indicate developing complaints and their causes. These can, for example, be directly related to the lungs, such as the first signs of asthma or sleep apnoea, or dizziness, disorders in the cardiovascular system or even heart defects.
Don't worry: no round-the-clock monitoring of the SpO2 value by smart watch - if only to save the battery. Of course, no smart watch or fitness tracker with blood oxygen measurement can replace a visit to the general practitioner or specialist. However, the performance and effectiveness of lung function - as with other organs - are such essential building blocks of physical health that a quick watch comparison can still provide helpful information. With the "Fit Watch 6910" smart watch, blood oxygen saturation is measured in no time at all and you receive the valuable health data directly and easily on your smartphone. The following strategies for measuring blood oxygen saturation have proved particularly effective:
A single measurement during the day in rest phases
Measurement in special situations during physical exertion, e.g. after training or climbing stairs
Regular sleep monitoring
Did you sleep well? Simply more rested thanks to sleep tracker
How to sleep better thanks to a smart watch with sleep analysis
A good night's sleep is one of the most important health factors. To be fit and productive during the day, most people need between 6 and 8 hours of sleep. But of course this varies from person to person - and in addition to sleep duration, sleep quality is also crucial. This is exactly what the Hama "Fit Watch 6910" provides you with accurate sleep monitoring, recording deep sleep, dreaming and waking phases in detail.
If you want to know in the morning how well you really slept, you'll have the answer at the touch of a button with the sleep analysis. By synchronising the "Hama FIT Move" app with the smart watch, you get the perfect insight and important starting points on how to develop a healthier sleep rhythm. It's so easy to make your sleep smart.
Smart training, smart living
Numerous clever additional functions on board
The "Fit Watch 6910" smart watch not only looks good but can be adapted to your individual style thanks to display settings. Beyond that, it is a compact all-rounder. The fitness watch offers particularly helpful additional functions for sport and everyday life alike, whether for healthy habits or better planning.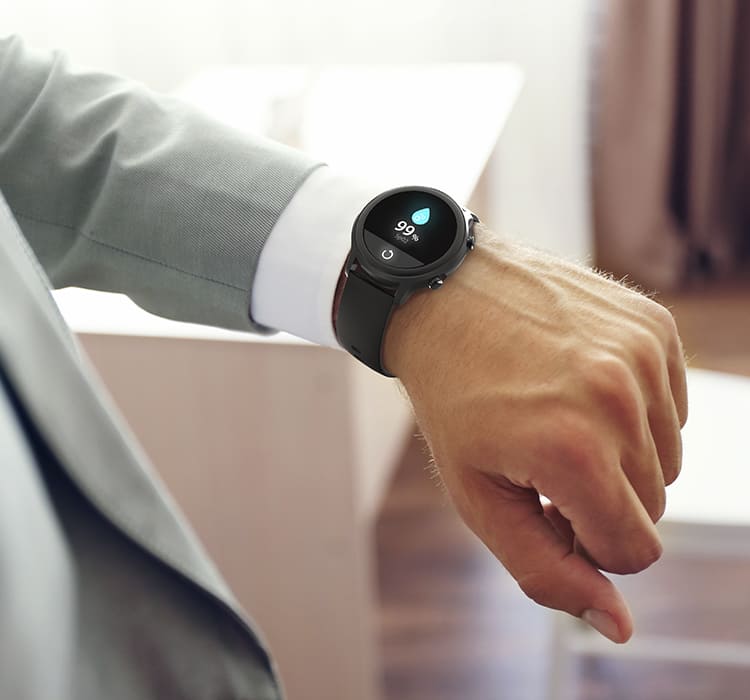 Speed, time, distance
The smart watch with GPS tracker makes your progress tangible
Sweating alone is not enough: the goal is to improve! If you want to continuously improve yourself and your stats, you need reliable values. The many measurement functions of the "Fit Watch 6910" smart watch help you put your training plan into action and beat your own best times. And you can do this in several disciplines at once, for example in swimming the SWOLF function (length and frequency of swimming strokes) is particularly helpful.
Those who prefer to move over short and long distances on land will benefit above all from the following measurement functions:
Smartphone-independent GPS tracking
Average step rate
Stopwatch and timer
Distance
Pace
Notifications: everything immediately in view
It is practical when you can simply look at the smart watch for incoming calls and WhatsApp notifications - without having to spend ages fishing around in your pocket for your mobile phone. The Hama "Fit Watch 6910" not only informs you about new messages. Simply call up the message preview directly on the full-touch LCD display and you will immediately know how important a message really is. Undisturbed work and training without distractions are also possible: in this situation, the do-not-disturb mode is the tool of choice.
Wake up with a smart watch: Alarm clock with wrist vibration
When the wrist strap vibrates on the wrist, the alarm clock takes on a whole new persuasive power. Even morning grouches can't avoid this: with the smart watch, you hardly ever get out of bed - leaving more time for healthy routines and enough rest in the morning. Maybe there will even be time for a short run through the park? The integrated wrist strap alarm clock makes life and training noticeably easier - and the eternal snoozing of several alarms one after the other has finally come to an end.
Drink enough water: stay well hydrated thanks to drink reminders
Many people find it difficult to drink enough water - regardless of the summer heat or colds and the like. The common rule of thumb for how much water you should drink is 30 ml per kilogram of body weight. The daily drinking quantity for a person weighing 85 kg, for example, is 2.55 l. But: in order for the body to absorb the fluid supplied, we need to drink less, but more frequently. With its practical drink reminder, the Hama "Fit Watch 6910" helps you to reach for your water bottle more often in between meals.
Locate your mobile phone: find your device again faster
Misplaced your mobile phone? Don't worry: if the phone search function is activated in the app, you can trigger the search with the smart watch. Because if the smart watch and smartphone are connected to each other, they just need to be within Bluetooth range: the mobile phone makes itself known acoustically and with vibration. Especially practical: the vibration works even if, for example, the smartphone is permanently in silent mode and even the classic ringing would no longer help to find the mobile phone.
Magnetic charge: precise, efficient and fast charging
Six days awake: the "Fit Watch 6910" smart watch accompanies you for up to 144 hours at a time - without recharging. Afterwards, the powerful rechargeable battery is full again in no time - after 1.5 hours - and this is done very conveniently via magnetic charging. The magnetic coil in the supplied charging cable ensures precise alignment and efficient charging when you connect the cable and smart watch. So the versatile health watch also saves you the hassle of plugging it together and is quickly ready to faithfully accompany you again.
Weather forecast: equipped for every adventure
Whether on the way to work or before a trip with the family to another city: knowing what the weather will be like is important not only for jogging and other outdoor sports. Instead of searching around for your mobile phone, a quick glance at the Hama "Fit Watch 6910" is enough to let you know immediately whether you need the umbrella after all or whether snow and strong winds are on the way. No matter what lies ahead of you: with the fitness watch including weather info, you can adjust to everything - in good time, too.
Period tracker: understanding the menstrual cycle even better
Most people underestimate the influence our hormone balance really has on our lives - this applies to all genders, by the way. However, if you keep an eye on your menstruation with a tracker, it's easier: whether it's scheduling for work, leisure and holidays, major projects or even training plans. If required, the integrated period tracker creates the basis for simply good timing.
10,000 steps: on the go with movement reminders
Of course, all that sitting is unhealthy - but who thinks about getting enough exercise all the time? The movement reminder in the smart watch ensures that you always get up and stretch in between. And you have another advantage: thanks to activity recognition, your training is automatically recorded. Stairs instead of a lift, a short walk after work: every step counts on the way to the goal!
Calorie tracker in the app: keep an eye on calorie consumption with a smart watch
Tracking how many calories we take in and comparing that to the daily requirement is one thing. The other is keeping an eye on the actual daily balance and in turn adjusting the diet. The smart watch also helps here, because consumption can be quickly checked in the calorie tracker in the "Hama FIT Move" app. With the smart wristwatch, you are always up to date - and can enjoy carefree.