On the winner's rostrum: Bar mount for GoPro
The GoPro can now be taken along to the motocross track – and can be used right on the frontline! The Hama bar mount allows you to mount the action cam securely to the handlebar and film the entire action from there.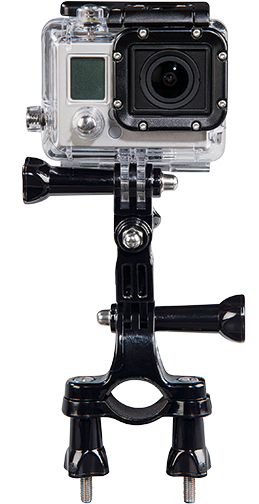 Handlebar mount with innumerable possible uses
The bar mount guarantees wicked shots – there are no limits to imagination when it comes to possible use! The GoPro can be mounted to the handlebar or seat tube of bicycles, mountain bikes or motorcycles, and to ski or trekking poles. The clamp can be opened completely, so mounting to bars or tubes does not present a problem.
Holds the GoPro to bars with a diameter of 1.6–4 cm
The bar mount is suitable for bars or tubes with a diameter between 1.6 and 4 cm. The action cam is simply screwed onto the device and is then ready for cool shots. Thanks to the movable swivel arm, you can film and take photos from different angles. These exciting and varied images will impress everyone!