OPTIMAL HOLD ON THE WINDSCREEN
SIMPLE AND SECURE: THE HAMA "MAGLOCK" SMARTPHONE HOLDER
Would you like to use your smartphone as a navigation device? When you get a call, would you like to see straight away who is calling? This is only possible if you are able to look at the screen. And if the phone is in the centre console, for example, you have to look down. This is inconvenient and can even be dangerous.
With the Hama "MagLock" smartphone holder, your phone is always in your field of vision; and thanks to magnetic attraction, your phone is securely attached even in the event of hard braking. In addition, the holder is compatible with all Apple MagSafe products and with Hama MagCase products kompatibel.
SECURELY STOWED
Attached to the windscreen using a suction cup, the "MagLock" holder holds your 12th-, 13th- and 14th-generation iPhone in your field of vision – and does so totally securely. The smartphone can be docked to the holder in a vertical or in horizontal position, and rotated as desired. As a result, it is always easy to look at the screen, without having to look down or hunt for your phone. The phone holder is attached in just one simple step.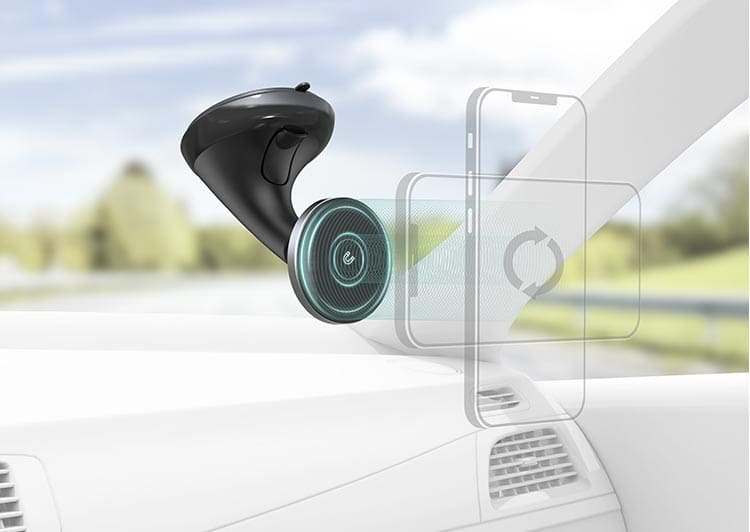 MAGNETIC HOLDER
If you have to brake hard or perform an avoidance manoeuvre, the MagLock holder ensures that your smartphone stays firmly in place thanks to the built-in magnetic ring. The rubberised surface protects your phone from scratches or signs of wear. Thanks to the ball joint, you can adjust the holder's tilt angle. Furthermore, the phone can be rotated 360 degrees on the holder. You can therefore attach your smartphone vertically or horizontally.

PERFECTLY COMPATIBLE WITH APPLE MAGSAFE AND HAMA MAGCASE
The Hama "MagLock" smartphone holder is perfectly compatible with all original Apple MagSafe covers and with the Hama MagCase products. You thus avoid messy cables, which are distracting and can even be dangerous. For example, if a cable winds around the gear lever.