"MagCharge" – High-speed, simultaneous wireless charging for multiple devices
Has the charger for your Apple iPhone 13 disappeared into some drawer again? Could your AirPod do with a bit more power or is your Apple Watch drawing on its last energy reserves? It's just annoying to have a separate charger for each device – with each stowed away in a different place or in a tangle of cables. The 3-in-1 "MagCharge" charging station says "Goodbye cable tangles, hello wireless charging".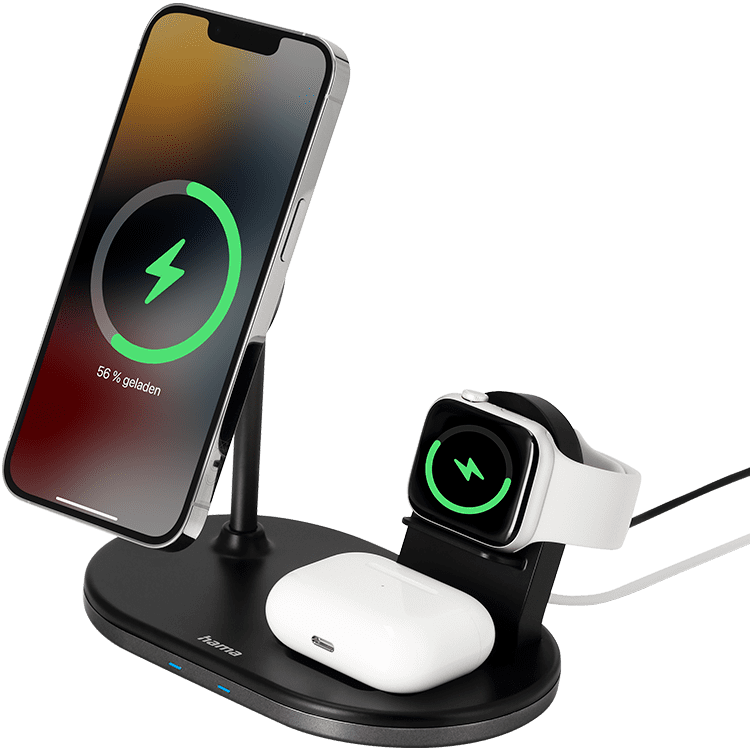 One charging station, three Apple devices
Efficient and precise charging with the integrated magnetic ring. You can charge your Apple iPhone 12 or 13 and any other smartphones that are wireless-charging-compatible with the wireless charger. The magnetic ring automatically helps to position the iPhone precisely for the best charging results, with no need for you to intervene manually. The magnetic ring technology is suitable for all Apple MagSafe and Hama MagLine products.
There is also a wireless charging area for the Apple AirPods. You simply put the device down and charging begins fully automatically.
An extra holder is provided for the Apple Watch. Clip the Apple Watch charging cable into this holder to dock and charge the Apple Watch.
Wireless charging at turbo speed
The fast charger charges your iPhone at up to 15 watts. The charging process is optimised to the connected device, so the battery is charged particularly gently, but also at the maximum charging speed. Overcharge, overvoltage and short-circuit protection keeps everything from iPhones to AirPods safe during charging.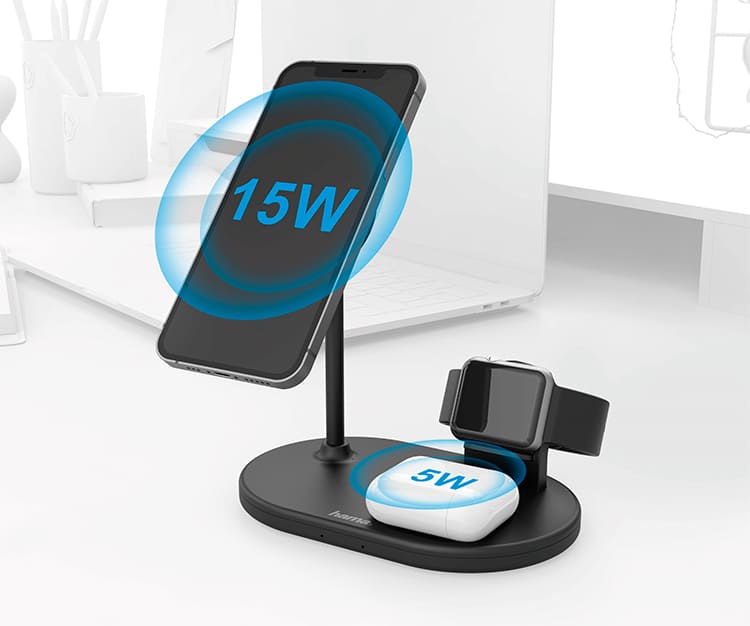 For intensive users
Ideal for your work or home office
If you use an Apple iPhone for business or pleasure, constantly have AirPods in your ears to make calls, listen to music or work out or wear the Apple Watch wherever you go, you'll know you need to recharge often. It would be pretty handy if you could charge all your devices with one charger. It would be even handier if this charging station was designed for office use – like the "MagCharge" multi-charging station. The phone holder on the induction charger is equipped with a ball joint that lets you adjust the tilt angle or switch the smartphone between portrait and landscape format. That lets you use your smartphone at the perfect viewing angle, even while charging it.