Intelligent, safe charging in the car
Hama "MagCharge Car FC15": phone holder with inductive charging function
With the "MagCharge Car FC15" smart induction charger, you can charge your phone easily, conveniently and wirelessly in your vehicle. At the same time, you can securely mount your 12th-, 13th- and 14th-generation iPhone in the car in just a few simple steps. That way, the phone is always held in an easily visible location, and there's no more tiresome searching in your handbag or in the centre console. And if, for example, you have to brake hard due to traffic, your smartphone will stay firmly put. Thanks to the magnetic ring, the phone is precisely aligned – perfect for turbo charging. In addition, the holder is compatible with all Apple MagSafe products and with Hama MagCase products kompatibel.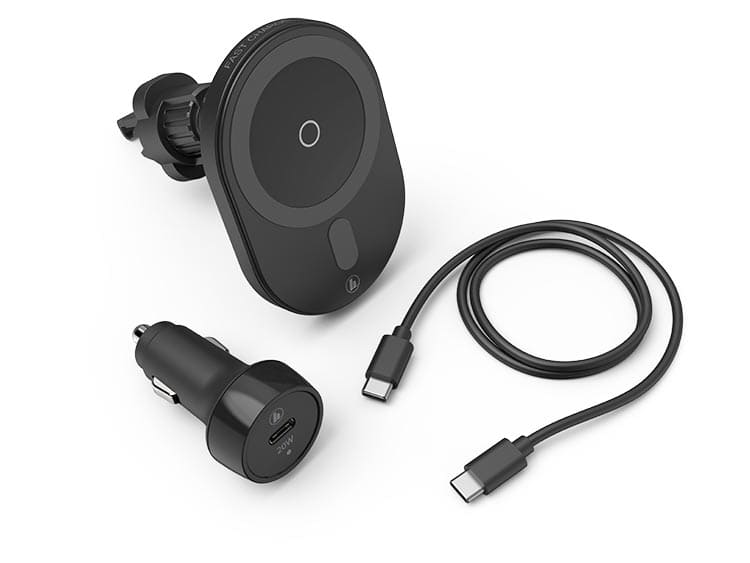 More safety in the car
Once again you have a long drive ahead of you and notice that your smartphone battery is almost empty. You connect your cable to the charging adapter and charge the smartphone. The danger is that your smartphone lies unsecured in the centre console; in addition, the cable get in the way, possibly even when operating the vehicle.
With the "MagCharge Car FC 15" induction charger, all this is a thing of the past. It charges the phone completely wirelessly and also functions as a phone holder. The holder is easily and securely attached to the air vents, so your smartphone is ideally positioned and always in your field of vision. No more searching when the phone rings, as it is close at hand – without any interfering cable.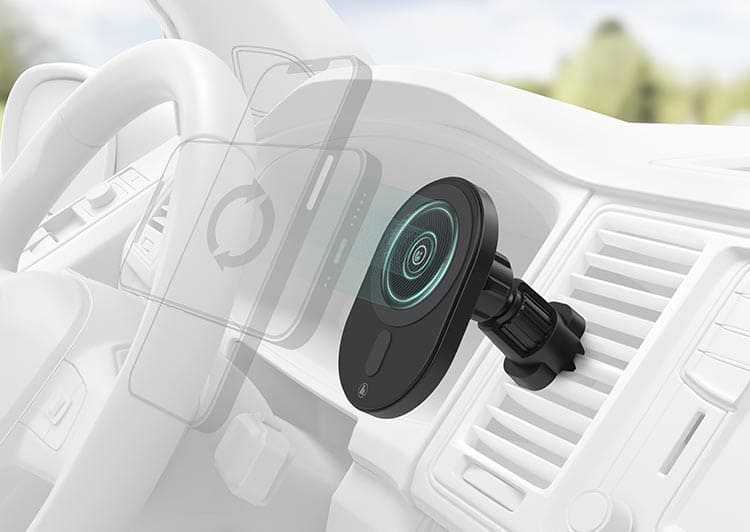 Secure hold through magnetic attraction
Thank to the integrated magnetic ring, the iPhone attaches securely to the car charger. A rubberised surface protects the back of your phone from scratches or other signs of wear when you dock the phone. And heat management when charging is likewise not a problem, as air can circulate around the phone, particularly when you switch on the ventilation.
The magnetic holder automatically ensures correct alignment of the smartphone for optimal charging, as the charging coils sit directly on top of each other. Manual alignment is therefore unnecessary – irrespective of whether you attach your phone to the holder in an upright position or horizontally. With its charging power of 15 watts, it charges your phone quickly. Despite this, charging is gentle on the battery.

Compatibility to perfection
The "MagCharge Car FC15" is designed for use with compatible smartphones. It has been perfected for the Apple iPhone 12, 13 and 14 product series. You can conveniently charge your phone with Apple MagSafe original covers and with the Hama MagCase products. The magnetic ring ensures that the devices can be easily docked and optimally positioned for efficient charging. You can continue to use the phone's connections while it is charging.