Made Simple
SMART LIGHTING MADE SIMPLE WITH THE WLAN LAMP
A romantic atmosphere, party lighting, colour therapy or the perfect light for working? The smart lamp fulfils all these requirements – conveniently via app and voice control. Simply replace the existing bulb in your ceiling lamp, floor lamp or bedside lamp with the WLAN bulb and your lighting becomes smart with a range of different light effects. This means you can gradually transform your home into a smart home with no building work required.
SMART RIOT OF COLOUR WITH 16 MILLION COLOURS
Create special atmospheres with the smart home lamp – with 16 million colours to choose from, you will always find the right lighting for every occasion and every mood. The living room can be transformed into a fabulous party scene, or the reading corner can be immersed in relaxing green to help relieve everyday stress, all at the tap of a finger.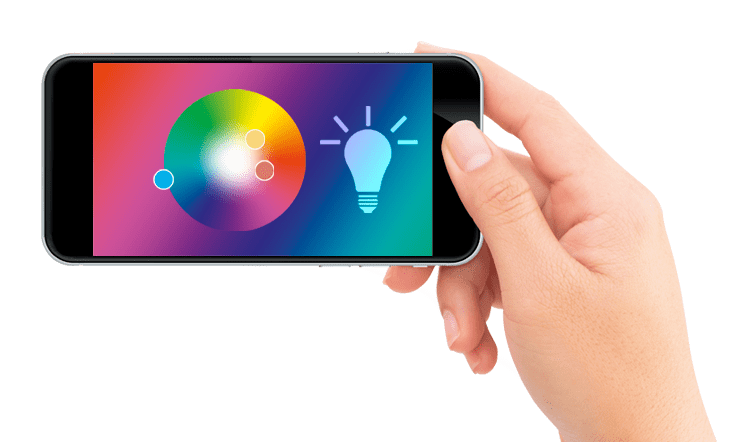 SET DIVERSE LIGHT SCENARIOS WITH THE COLOUR TEMPERATURE
The colour temperature of the WLAN LED lamp can also be controlled: from warm white (2700K) to daylight (6550K). For a harmonious, calm atmosphere achieved with soft lighting, choose a value of around 2700K. The warm white colour temperature is ideal for a romantic evening, a relaxing evening on the sofa, or a cosy meal. Everything that takes place before a relaxing evening is best done in daylight: from working in the home office to cleaning and cooking. You will get even finer nuances by dimming the chosen light colour.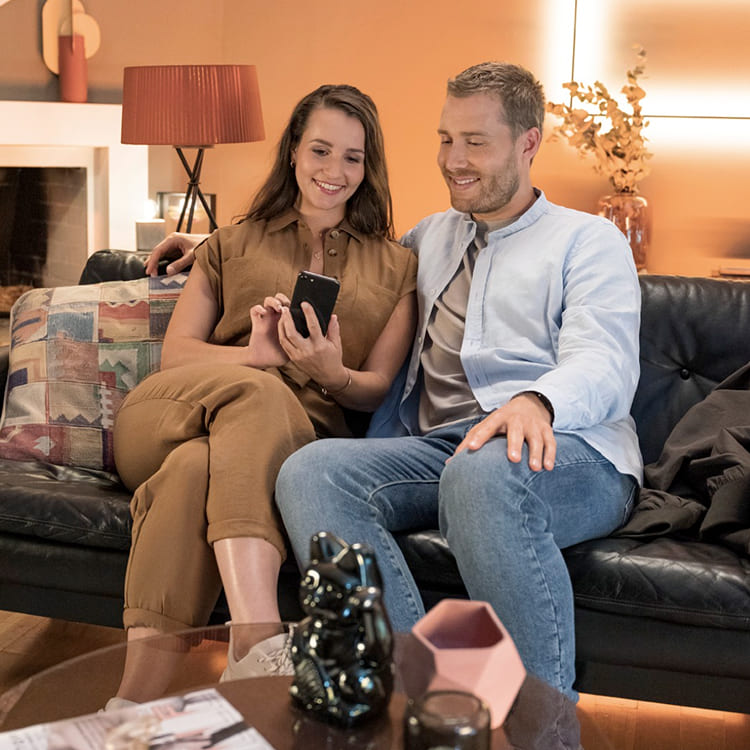 THE EASY WAY TO A WIFI-CONTROLLED HOME
SIMPLE INSTALLATION WITH NO GATEWAY
The WLAN light bulb establishes a direct connection to the router without an additional hub. No building measures or additional devices are required, saving you time and money. It takes only a matter of minutes to integrate your lighting into the WLAN, and then you can immerse yourself in your individual programming via app and voice control.


THE SMART LAMP LISTENS TO YOU AND THE APP
A WiFi lamp finally puts an end to having to squeeze behind the sofa to switch on the floor lamp. With voice control via Amazon Alexa or the Google Assistant, you can switch the light on or off, dim it, or select colours using just a voice command. App control using the Hama Smart Home app is likewise possible; it offers many possibilities for controlling your lighting smartly. In combination with the app, the smart lamp can be used as a timer, so that the light in the hall is only on during certain hours, for example. You get information via the app whether you're at home or away, and can control your lighting from the sofa just as you can from the train. This is practical if you have forgotten to switch off the light, or if you want to immerse the living room in atmospheric lighting when you're still on your way home from work.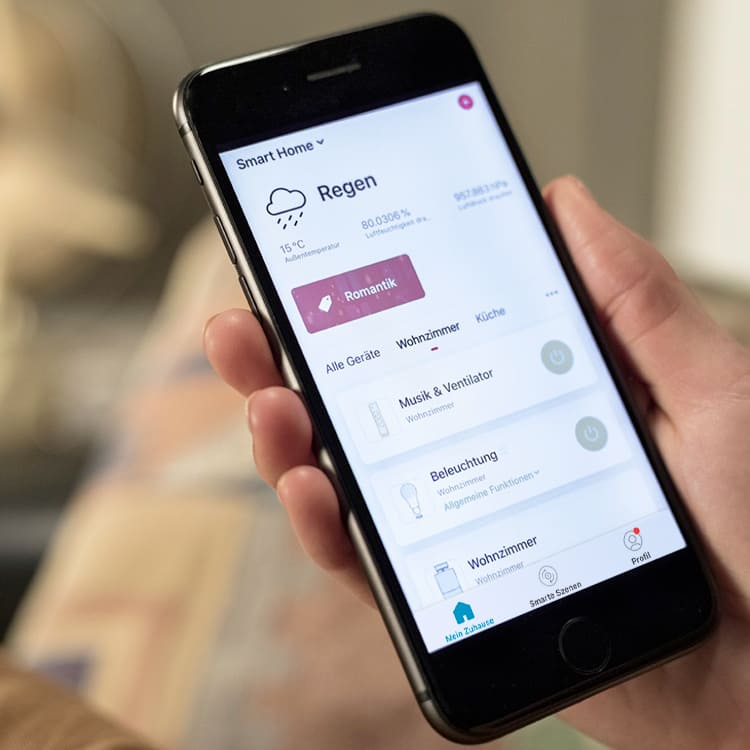 Good news:
All Hama Smart Home products can now be controlled not only with Alexa and the Google Assistant, but also with the voice assistant Siri.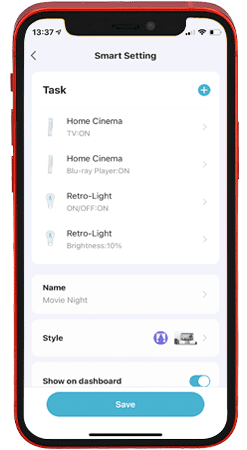 1

Create a scene

The Siri Shortcuts function enables the control of smart scenes that first have to be created. For this purpose, create a scene in the usual way that you want to activate with Siri. The existing process remains unchanged.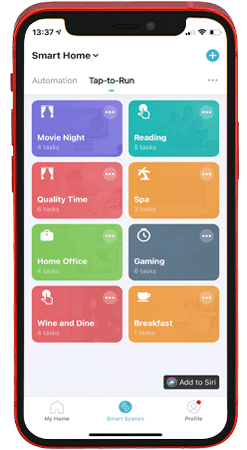 2

Open Siri Shortcuts

In the app The overview page displays all set-up scenes. You will find the new 'Siri Shortcut' button in the lower right-hand area. Tap the button.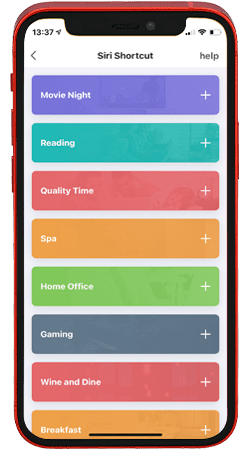 3

Select the scene you want

A page opens, on which you can add your scenes to a Siri Shortcut. To do so, press the plus sign next to the relevant scene.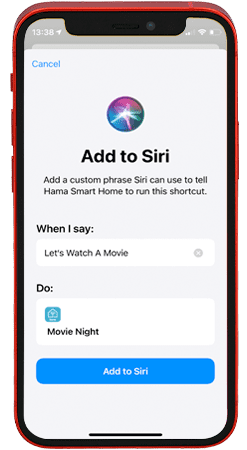 4

Create a shortcut

You can now create the shortcut. To do so, enter the wording for the command that is to be used to start this scene. If, for example, you have created a scene for a film night and would like to add it to the Siri Shortcuts, a suitable command would be 'Start the film night'. Once you have tapped 'Add to Siri', you can then simply say to Siri, 'Hey Siri, start the film night'. Siri will then run the 'Film night' scene from the Hama Smart Home app.

Additional tip: To control individual devices with Siri, simply create short scenes that are responsible only for switching on, switching off or switching over the individual device, and add them to Siri. 'Fan on', 'Light off', 'Hey Siri, see to the light' – there are no limits to your imagination!
Be creative with the Hama Smart Home app
Have you have acquired a taste for smart home technology, and WLAN control of your lighting is no longer enough for you? With the Hama Smart Home app, you can link all smart home products from Hama with one another by creating scenes and automations. In addition to exceptional effects, simple everyday manual actions can be automated with smart home systems.
Scenes and automations make your everyday life so much more pleasant and convenient. Try it out for yourself: There are no limits to your imagination.
SCENARIOS
MAKE LIFE BETTER AND EASIER
'Cinema' scenario: If you want to enjoy the latest blockbusters in the right ambience and with delicious popcorn, you have to go to the cinema, right? This has not been the case for some time now. With Netflix and other streaming services, you can watch almost any film nowadays. To get the right cinema feeling, you set up a scene with the smart socket and our smart lamps:
When the TV is switched on from 7 p.m., the main lighting is to be switched off, and the connected decorative lighting switched on in cosy, warm pink and blue shades. A perfect cinema experience for every home – and just one click is required.
AUTOMATIONS
LINK YOUR SMART HOME PRODUCTS WITH ONE ANOTHER
You return home fully laden with shopping and open the front door with a struggle. A simple automation now saves you having to switch on the light. When used together with our motion detector, the WLAN LED lamps in the corridor, and, of course, those in other rooms, will simply switch on as you move through your home.
Home Connect Plus
Hama's smart home products are compatible with Bosch's Home Connect Plus app in addition to Alexa, OK Google and Siri Shortcut. Expand your smart home by various products and enjoy full functionality.
All information about Home Connect Plus from Bosch