Smart heating control
Control heating cycles with ease and save energy
You're heading home in winter after a day at work: You're looking forward to a cosy evening with a nice cup of tea and a good book in a comfortably warm living room. But when you open the door, you are greeted by icy cold air because you forgot to turn on the heating in the morning. Make it easy for yourself – true to the motto 'Made simple'. With our smart home heating control, you can set up various heating scenarios; but you can also change the settings spontaneously from anywhere. With these automated heating cycles, you can easily save a lot of energy.
WLAN heating control
always the ideal comfort temperature
Too warm, too cold – if you are constantly adjusting the heating because you can never achieve the right temperature, then it's time for smart radiator thermostats. You can then set your preferred comfort temperature for every room in your home – the living room, bedroom or the children's room. And you can set it for specific times: The temperature in the living room should be a cosy 24 degrees when you get home from work.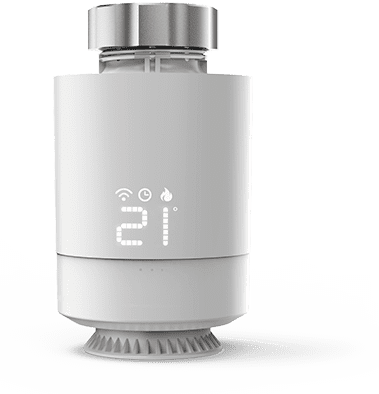 Smart thermostats
a symbiosis of comfort and energy efficiency
With smart heating, you not only gain a high degree of comfort: By setting heating cycles, you also reduce your heating costs. An energy saving of up to 30 percent is possible when you switch from manual control.
This is achieved through more efficient heating; for example:
The temperature is automatically reduced when the window is opened.
When a set temperature is reached, the heating switches off.
The temperature is automatically lowered when you're not at home.
This makes a positive contribution to your ecological footprint and to your personal well-being.
Installation with central control unit
the easy way to WLAN-controlled heating
Retrofitting your heating control with WLAN is not complicated. You merely have to replace your existing radiator thermostat with the new smart thermostat. To turn your heating control into a WLAN heating control system that can be used to operate the smart thermostats, a control centre is needed. This control centre establishes the connection to your network. A clever and practical solution: Hama supplies the central control unit with the smart thermostats. In this way, the smart home radiator thermostats can be installed within minutes. To use the individual thermostats, you need the central control unit from the Hama heating control set. Other Smart Home radiator thermostats can be made familiar with the central control unit at the touch of a button. With the included adapters, the radiator controllers will fit all common radiator valves, such as Danfoss RA, RAV, Caleffi and Giacomini.
Can be expanded as required
from smart heating control to the complete smart home
The starter set comprises the central control unit and two heating controllers. It can be expanded to include any number of thermostats – you probably want to integrate more than two radiators into your smart home. All Hama Smart Home products can be operated using the Hama Smart Home app, and can be connected with one another. If you already have smart home products from a different manufacturer and they are compatible with Amazon Alexa and Google Assistant, they too can be combined using the voice assistants.