WLAN POWER STRIP:
MINIMAL EFFORT, MAXIMUM CONVENIENCE
You come home after a hard day's work and look forward to a relaxing, cosy night in… But it's hardly relaxing having to get up to switch on the light and TV, and plug in your smartphone for charging. Make it easy and convenient for yourself with our WLAN power strip: Control all your devices – from the TV and sound system to the decorative lights – from a single location, by app or using your voice.
COMPATIBILITY MEETS FUNCTIONALITY
The multiple socket is a true all-rounder in matters of compatibility. You don't have to worry about whether the smart power strip works with your operating system. It is compatible with Amazon Alexa and the Google Assistant, just as it is with iOS and Android. You can thus use all of the functions and control them using the Hama Smart Home app. In addition, the power strip has four USB ports which can be used to charge a smartphone and tablet, for example, or to supply power to a Fire TV.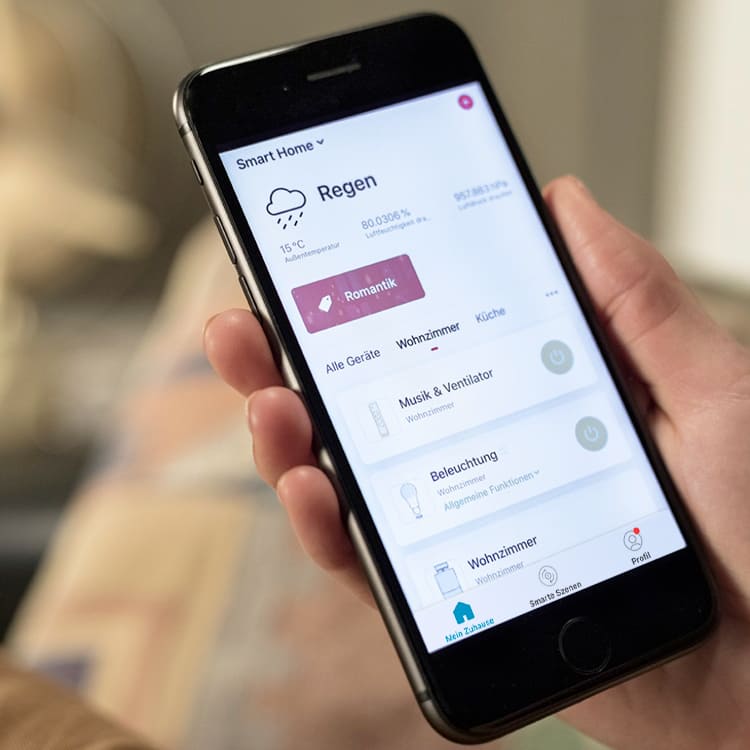 FROM THE INTELLIGENT POWER STRIP TO THE SMART HOME
SUITABLE FOR NOVICES AND EXPERTS ALIKE
With the WLAN power strip, you can easily add smart control to your devices – without having to make structural changes within your home. If you would like to smartly control your home entertainment equipment, such as your TV, hi-fi system, game console and lighting, then the smart home power strip is the right solution for you. Have you acquired a taste for smart home technology, or are you already a smart home fan? If so, the power strip offers virtually endless possibilities when used in combination with other smart home products. All smart home products can be connected with one another – those from Hama using the app, those from other manufacturers using Amazon Alexa or the Google Assistant. In this way, you can set up scenes and automations for any room in your home.

SAVING ENERGY MADE EASY
The sockets of the WiFi power strip can be individually controlled and programmed. The main advantage here is that your devices are not all automatically on. You can specify which devices you currently need; power to all other devices is switched off. This is intelligent power supply – there is no wasting of resources.
In addition, the controllable socket also works as a timer. You can switch devices on and off at set times, without having to constantly think about it – the app does it for you. Would you like to be welcomed by a pleasant lighting atmosphere in the living room when you get home from work? Then simply schedule the light to switch on with the desired light intensity when you're still on your way.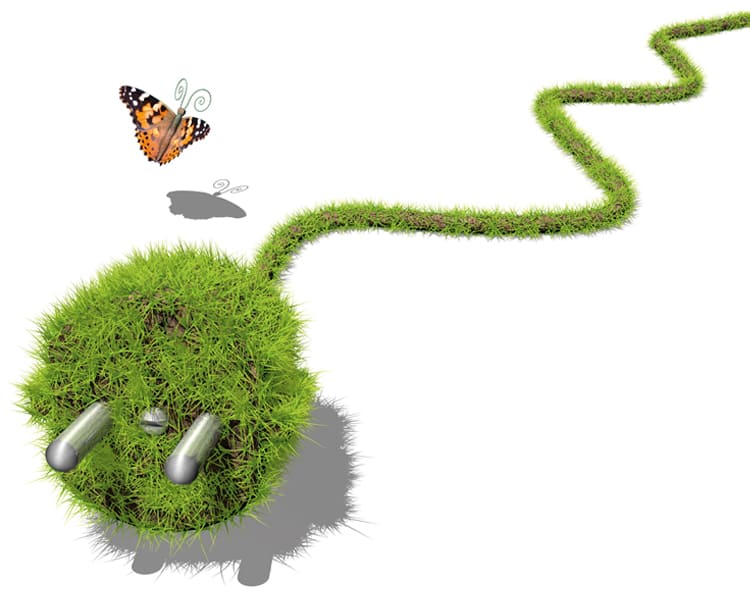 THE WLAN POWER STRIP DOES WHAT YOU SAY
A smart power strip finally puts an end to having to squeeze behind the sofa to switch on the floor lamp. With voice control via Amazon Alexa or the Google Assistant, you can switch the light on or off, or dim it, using just a voice command. And that goes for all the devices in your home entertainment control centre. App control using the Hama Smart Home app is likewise possible. It offers many possibilities for controlling your devices smartly. You get information about your devices, whether you're at home or away, and can control them from the sofa just as you can from the train.

The easy way to a WiFi-controlled home
simple installation with no gateway
The WLAN-enabled socket establishes a direct connection to the router without an additional hub. No building measures or additional devices are required, saving you time and money. Within just a few minutes, you have integrated your lighting or electronic devices into the WLAN, and can immerse yourself in your individual programming via app and voice control.

Good news:
All Hama Smart Home products can now be controlled not only with Alexa and the Google Assistant, but also with the voice assistant Siri.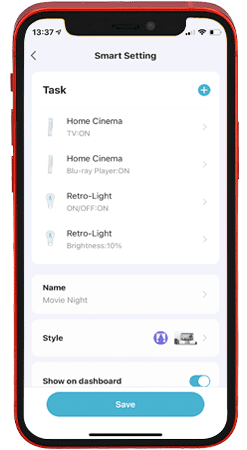 1

Create a scene

The Siri Shortcuts function enables the control of smart scenes that first have to be created. For this purpose, create a scene in the usual way that you want to activate with Siri. The existing process remains unchanged.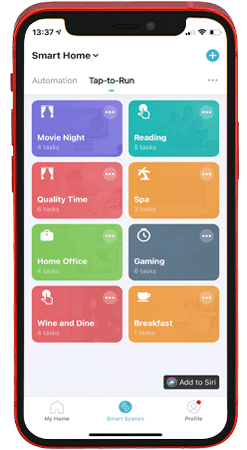 2

Open Siri Shortcuts

In the app The overview page displays all set-up scenes. You will find the new 'Siri Shortcut' button in the lower right-hand area. Tap the button.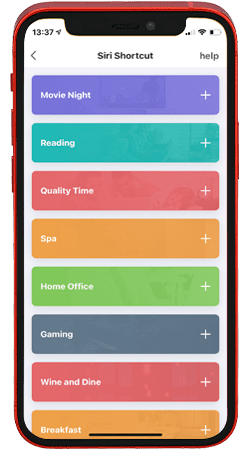 3

Select the scene you want

A page opens, on which you can add your scenes to a Siri Shortcut. To do so, press the plus sign next to the relevant scene.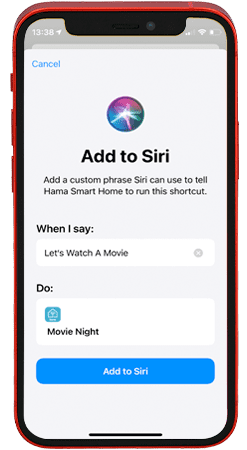 4

Create a shortcut

You can now create the shortcut. To do so, enter the wording for the command that is to be used to start this scene. If, for example, you have created a scene for a film night and would like to add it to the Siri Shortcuts, a suitable command would be 'Start the film night'. Once you have tapped 'Add to Siri', you can then simply say to Siri, 'Hey Siri, start the film night'. Siri will then run the 'Film night' scene from the Hama Smart Home app.

Additional tip: To control individual devices with Siri, simply create short scenes that are responsible only for switching on, switching off or switching over the individual device, and add them to Siri. 'Fan on', 'Light off', 'Hey Siri, see to the light' – there are no limits to your imagination!
Be creative with the Hama Smart Home app
Have you acquired a taste for smart home technology, and WLAN control of your lighting and fan is no longer enough for you? With the Hama Smart Home app, you can link all smart home products from Hama with one another by creating scenes and automations. In addition to exceptional effects, simple everyday manual actions can be automated with smart home systems.
Scenes and automations make your everyday life so much more pleasant and convenient. Try it out for yourself: There are no limits to your imagination.
Scenarios
Make life easier
'Cinema' scenario: If you want to enjoy the latest blockbusters in the right ambience and with delicious popcorn, you have to go to the cinema, right? This has not been the case for some time now. With Netflix and other streaming services, you can watch almost any film nowadays. To get the right cinema feeling, you set up a scene with the smart socket and our smart lamps:
When the TV is switched on from 7 p.m., the main lighting is to be switched off and the connected decorative lighting switched on. A perfect cinema experience for every home – and just one click is required.
Automations
In combination with other products
The outdoor temperature is 35°C, and even when you come home from work in the evening, it's like a sauna. With an automation system, you can turn your home into a cooling zone. Simply connect a fan or an air conditioning system to our WLAN socket. Then, in the app, set the device to switch on when the outdoor temperature rises above 28°C.
Increased protection against contact:
safety for children and animals
The product incorporates increased protection against unintentional contact – for example, if children poke the socket with a screwdriver or knitting needle, or animals with their claws. This prevents children and animals coming into contact with live components.