Keep Your Secrets
With the "Premium M10" Document Shredder
If invoices, contracts or expired bank cards end up in your waste basket without being shredded, your strictly confidential information can easily end up in the wrong hands. Don't give data thieves a chance! The "Premium M10" document shredder shreds your documents into tiny 3 x 9 mm particles to protect your sensitive data.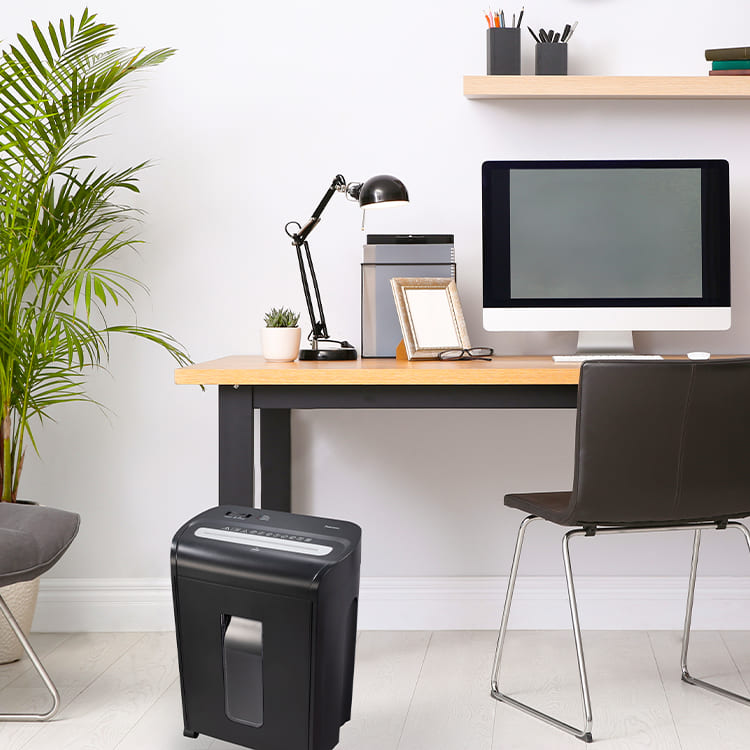 Data Protection in Compliance with the General Data Protection Regulation
The "Premium M10" is the perfect practical everyday tool for your home, home office or workplace. Our GDPR-compliant paper shredder is ideal for destroying highly sensitive data such as payslips, tax records and bank statements. The shreds fall directly into an 18 litre collecting basket. The inspection window lets you see when it is time to empty the paper basket. Its four rollers let you smoothly move our premium document shredder from one corner to another, and position it exactly where you need it.
You can also shred plastic cards through the paper feed. This enables you to dispose of your loyalty cards and credit cards securely and prevents them from being used or read out by others.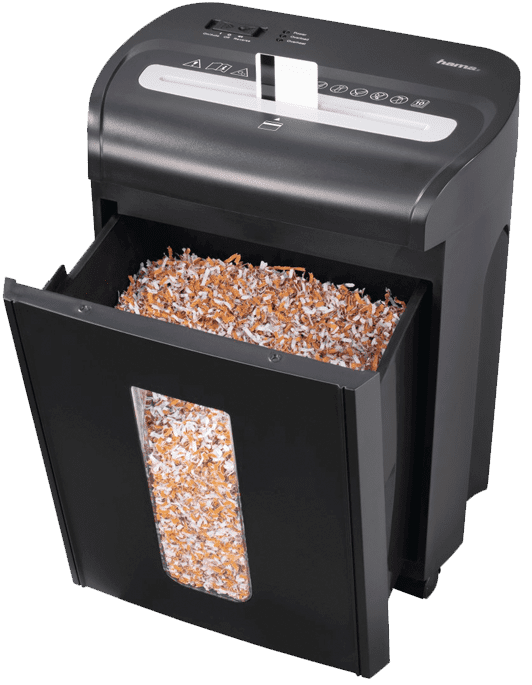 Securely Destroy Your Confidential Data
with Micro-Cuts
The document shredder can shred up to 10 DIN A4 paper sheets (80 g/m²) at once. The power LED lets you instantly see whether the device is on. The professional cutting blocks shred your confidential documents into tiny 3 x 9 mm shreds. The mini particles are roughly the size of a stud earring. This cut size corresponds to security level P-4 and protection class 3 as per DIN 66399. That ensures your confidential records, post and data sheets stay protected and can be disposed of securely.
Extremely practical: with the automatic start/stop feature, the document shredder starts shredding automatically when material is placed into the feed and stops as soon as the process is complete.

Quality Cutting Blocks Made
from High-Grade Steel
Have you accidentally put your whole ten-page stapled script into the paper shredder? No need to panic: the high-quality steel cutting blocks will shred the whole script at once – even paper clips are no match for them. At just 58 dB, the shredder is particularly quiet. It is about as loud as a rain shower. In the spirit of recycling and for the sake of the environment, however, it is best to remove the paper clips beforehand.

Safe and Durable
Thanks to Its Safety Device and Reverse Function
The safety device ensures that the cutting rollers turn only when the shredder head is correctly positioned on the paper basket. Otherwise, the integrated safety device prevents shredding. The overheating protection gives you and the "Premium M10" a little break when needed. It automatically shuts off the document shredder to prevent damage to the device. The overheat LED lights up while the shredder cools down.
You've been gripped by cleanout fever and are shredding all your old documents. In your eagerness, you can easily put too many sheets in the paper feed. No problem: the overload LED warns you of paper jams and the reverse function makes it easy for you to release them and continue your shredding.

Two-year Warranty
Trust Hama, Choose Quality
You can put your trust in the Hama brand, with its experience and expertise stretching back to 1923. All Hama products are subject to comprehensive and strict quality controls: from initial samples to series production. We provide you with a two-year guarantee for the "Premium M10".